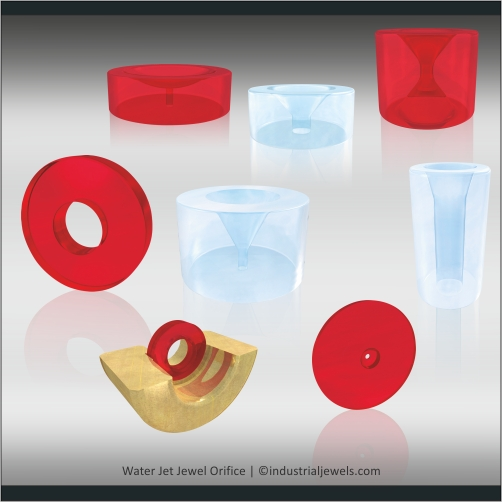 Water jet jewel orifice made by industrial jewels is made from sapphire or ruby material in hole sizes ranging from 0.10mm to 0.50mm.
In today's industrial scenario, water jet cutting is evolving as a highly reliable and cost-effective manufacturing process for a wide variety of applications for cutting and shaping. Water jet cutting machine consist of a CNC machine mounted cutting head which houses a water jet nozzles most commonly made from a sapphire or ruby water jet jewel orifice.
These nozzles have an ultra-precise hole and a conical recess on the exit side. Extreme care is taken in the manufacturing process to obtain the right geometry of the surface to give a coherent and laminar flow of water.
Each water jet jewels made by industrial jewels is checked 100% for surface geometry and finish to obtain reliable results.
Using a high-pressure pump, water is pumped through the ruby or sapphire water jet jewel of high pressure up to 5000 bars to create a laminar water jet which is focused on the workpiece for cutting. With water jet cutting we can shape or cut a wide variety of materials on a similar process as that of water erosion. Either pure water or water mixed with abrasive is focused on a specific area to do the cutting process.
The water jet cutting process is used to cut complex and highly detailed shaped in short time with high precision. Water jet cutting leaves no thermal stress on the work surface and is a highly preferred method compared to thermal cutting or laser cutting.
Industrial jewels are one of the main suppliers of water jet jewels to OEM market of water jet cutting machines around the world. Our water jet jewels consistently perform for many more hours of lifetime compared to competition product. We also work with various customers around the globe to customize them as per customer's drawing design and specifications.
Some of our standard Water Jet Jewel Orifice products