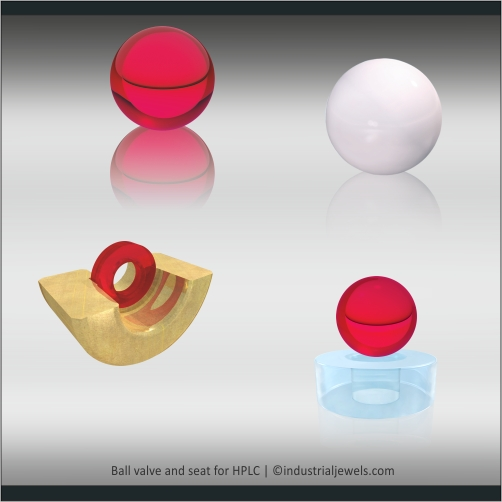 The Ball valve and seat for HPLC can be customized as per customer's drawing, design and specifications.
Ball valve and seat for HPLC is a very important component for the HPLC device. In an HPLC device, a pair of check valve [inlet & outlet] prevent the flow from a high-pressure area into the low-pressure area, because of which there is a continuous flow through the column at high pressure.
The seat and the ball are individually packed together in a set and each component is 100% tested to perform as per required standard.
The Ball valve and seat for HPLC are continuously exposed to high stress at high pressure and hence it is very important for the check valve to be highly reliable for the good performance for HPLC device. A typical HPLC check valve consists of sapphire or ceramic seat which is used together with a ruby or ceramic ball. We have a wide variety of standard product in various sizes, please contact us for detailed size information for stock parts.
We specialize in manufacturing a highly precise and accurate seat matching to the surface of the ball and providing an excellent seal and a leak-free device. All balls are also made in house to maintain consistent quality of our products. Each and every check valve set is tested 100% under nitrogen pressure to check the leak quality. Our standard quality is defined in two categories:
[1] 0 to 3 bubbles per minutes
[2] 0 to 10 bubbles per minutes
Industrial jewels have been making these Ball valve and seat for HPLC with Swiss know-how and experience of over 50 years and supply them around the globe. These parts are manufactured in micron tolerances and measured on the most reliable and accurate Swiss measuring instruments. Each check valve is checked 100% under the microscope to ensure the quality and reliability of the product.
The statically controlled and monitored manufacturing process ensures a high degree of product reliability which involves quality checks at each step of manufacturing as per customer's specified AQL levels. Industrial Jewels have completely y integrated ERP system which ensures full traceability of the material from the raw material stage to the finish products.
The check valve can be customized as per customer's drawing, design and specifications. We closely work with our customers to help them design a precise, reliable and cost-effective product. For test production we also manufacture pilot lots of as small as, lot size of 50 pcs until mass production involving several million pcs.
Some of our standard Ball valve and seat for HPLC products