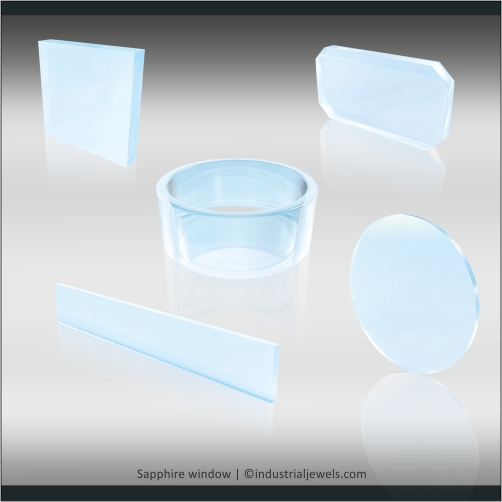 Sapphire window is commonly used for infrared analytical devices, bar code readers, viewports in various Furnaces, chemical and reagent analysis.
Industrial jewels manufacture sapphire window with diameters ranging from 0.50mm to 30mm with an excellent surface finish to achieve good transmission across various wavelength. The anti refractive coating can be applied for a specific wavelength to improve the transmission further. Specific metal brazing can also be done on the sapphire windows as per customer's requirement.
Our Sapphire window is chemically inert. Have high electrical resistance and operating temperature of up to 1800 degree Celsius in the various challenging working environment.
Sapphire is a made up of 99.9% pure aluminium oxide material which is melted at a temperature of over 2000 degree Celsius in a flame fusion process.
Having excellent optical properties with visible light, infrared, ultraviolet, this material is an ideal choice for optical applications. Having a refractive index of 1.76 coupled with hardness of MOHS 9 makes it an excellent optical material with wear resistance.
The sapphire window can be optically polished to work in wavelength ranging from 150nm to 5500nm. The hardness of the sapphire window is much higher compared to standard glass and only next hardest to diamond. The hardness of the sapphire window is 9 on the MOHS scale compared to 10 of a diamond.
Due to the above mentioned qualities, sapphire is used as preferred material as watch glass for high-quality watches. Continuous daily wear has almost no effect on the quality of sapphire glass for the years to come. Some leading brands of mobile phones have also used sapphire windows for many of their models.
At industrial jewels, we are capable to manufacture them in the thickness of as thin as 0.30mm with optical surface finish having a quality of 20/10 scratch dig.
Some of our standard Water Sapphire Window products