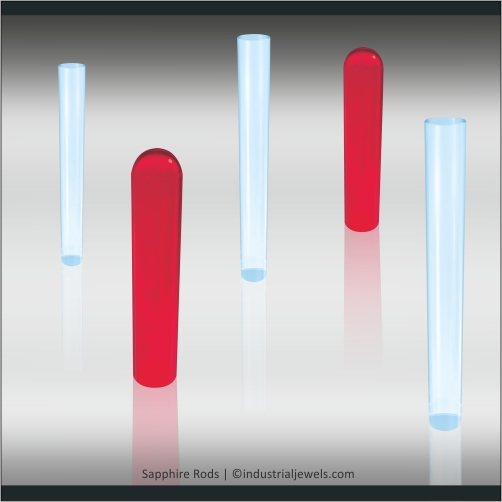 Our sapphire rods are very commonly used as piston/plunger for HPLC systems.
We manufacture precise sapphire rods in length up to 100mm and diameter ranging from 0.5mm to 10mm. these rods can be polished to have an excellent surface finish [free of scratch & dig @20x magnification].
The sapphire rod is assembled in a stainless steel part which acts as a piston/plunger for pushing the solvent through the system.
During the function of HPLC system, various impurities are embedded on the piston seal ring and cause abrasion on the surface of the sapphire rod during movement. A worn-out surface of the sapphire rods will have destroyed the pump seals which leads to developing a leak of the pump and hence would need replacement from time to time.
Sapphire material is made up of 99.99% alumina oxide. This makes sapphire and extremely hard material with hardness only next to diamond. Being colourless in nature and having excellent transparency makes it an ideal choice for various technical and optical applications. Sapphire has the ability to attain very good polish and is also able to show a strong chemical resistance.
The sapphire material used by us is made with the Verneuil process wherein it is fused at a temperature of over 2000 degree Celsius under an oxygen-hydrogen flame.
Industrial jewels have been making these sapphire rods with Swiss know-how and experience of over 50 years and supply them around the globe. These parts are manufactured in micron tolerances and measured on the most reliable and accurate Swiss measuring instruments. Each sapphire rod is checked 100% under the microscope to ensure the quality and reliability of the product.
The statically controlled and monitored manufacturing process ensures a high degree of product reliability which involves quality checks at each step of manufacturing as per customer's specified AQL levels. Industrial Jewels have a completely integrated ERP system which ensures full traceability of the material from the raw material stage to the finish products.
The sapphire rods can be customized as per customer's drawing, design and specifications. We closely work with our customers to help them design a precise, reliable and cost-effective product. For test production we also manufacture pilot lots of as small as, lot size of 50 pcs until mass production involving several million pcs.