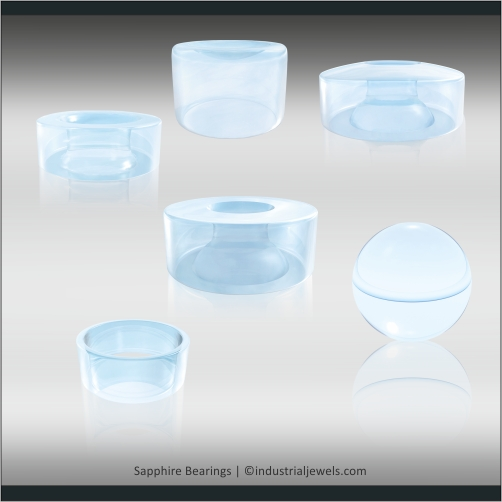 Sapphire bearing manufactured in micron tolerances and scratch-free surface finish.
Sapphire bearing is made from sapphire material which is colourless corundum. The corundum is a rhombohedral hexagonal single crystal. The material composition of sapphire is 99.99% AL2O3[aluminium oxide]. Apart from being one of the hardest materials after diamond, sapphire has a refractive index of 1.760 which makes it a preferred material for optical applications.
Industrial jewels have been processing sapphire material of Swiss origin since 1966 to make sapphire jewel bearings in its ultra-modern facility located in Bhavnagar- INDIA.
The facility is certified with ISO 9001:2015 quality system and employees over 450 people. This facility produces high-quality products which are exported to more than 23 countries around the world.
Being extremely hard and stable at high temperatures with the ability to attain a very good surface finish makes it an ideal candidate for applications which needs wear resistance with a precise performance like jewel bearing for water meters, electrical meters, measuring instruments and industrial mechanical movements.
Sapphire bearings can be hot polished by a special process developed by industrial jewels where the surface is actually modified by a very high-temperature polishing process, which results in a surface finish which is much superior compared to the conventionally polished sapphire bearing.
Sapphire bearings can withstand a high degree of exposure to chemicals and acids and hence preferred in applications which need chemical resistance. A wide variety of dosing equipment also used sapphire bearings due to this ability.
The sapphire material used by industrial jewels is made by the Verneuil process. The synthesis of sapphire involves fusing alumina using an oxyhydrogen blowpipe and producing the crystal step by step at a temperature f over 2000 degree Celsius.
The sapphire bearings are manufactured in micron tolerances and scratch-free surface finish at cost-effective pricing making it a much superior product compared to ceramics and its widely used for demanding applications.
Some of our standard Sapphire Bearing products