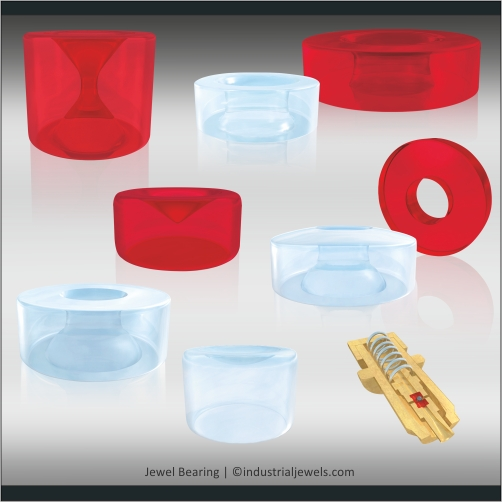 Jewel bearing is made from synthetic ruby or sapphire material
Jewel bearing is used where micro precision products which need long life expectancy along with very high reliability and precision. those are the ideal applications for the jewel bearings. Due to high polish level [resulting in lower friction] and good temperature stability, the jewel bearings is commonly used in a wide variety of industrial applications which required very low friction along with consistency in performance and long life.
The jewels bearing can be customized as per customer's drawing, design and specifications.
It is made from synthetic ruby or sapphire material. Sapphire material which is colourless corundum. The corundum is a rhombohedral hexagonal single crystal. The material composition of sapphire is 99.99% AL2O3[aluminium oxide]. Apart from being one of the hardest materials after diamond, sapphire has a refractive index of 1.760 which makes it a preferred material for optical applications. Ruby material used by us is a factory-made single crystal from AL2O3[aluminium oxide ]. This material is pink or red in colour depending on its colour grade. The red colour in this material is obtained by adding oxides such as chrome during the manufacturing process.
The hardness of this product is 9 on MOHS scale, which is next hardest to diamond which has hardness 10 on MOHS scale. This makes the parts made from sapphire & ruby, the hardest bearing for industrial applications with cost-effective pricing. Because of extreme hardness, the product made from ruby can attain an extremely high-level polish with the surface finish as good as 0.025µm. The sapphire jewel bearings are manufactured in micron tolerances and scratch-free surface finish at cost-effective pricing making it a much superior product compared to ceramics and its widely used for demanding applications.
Industrial jewels have been making these parts with Swiss know-how and experience of over 50 years and supply them to world-renown watchmakers and industrial movement makers around the globe. These parts are manufactured in micron tolerances and measured on the most reliable and accurate Swiss measuring instruments. Each part is checked 100% under the microscope to ensure the quality and reliability of the product.
These parts can be customized as per customer's drawing, design and specifications. We closely work with our customers to help them design a precise, reliable and cost-effective product. For test production we also manufacture pilot lots of as small as, lot size of 50 pcs until mass production involving several million pcs.
Some of our standard products